The New LCGB Website & Membership System Update.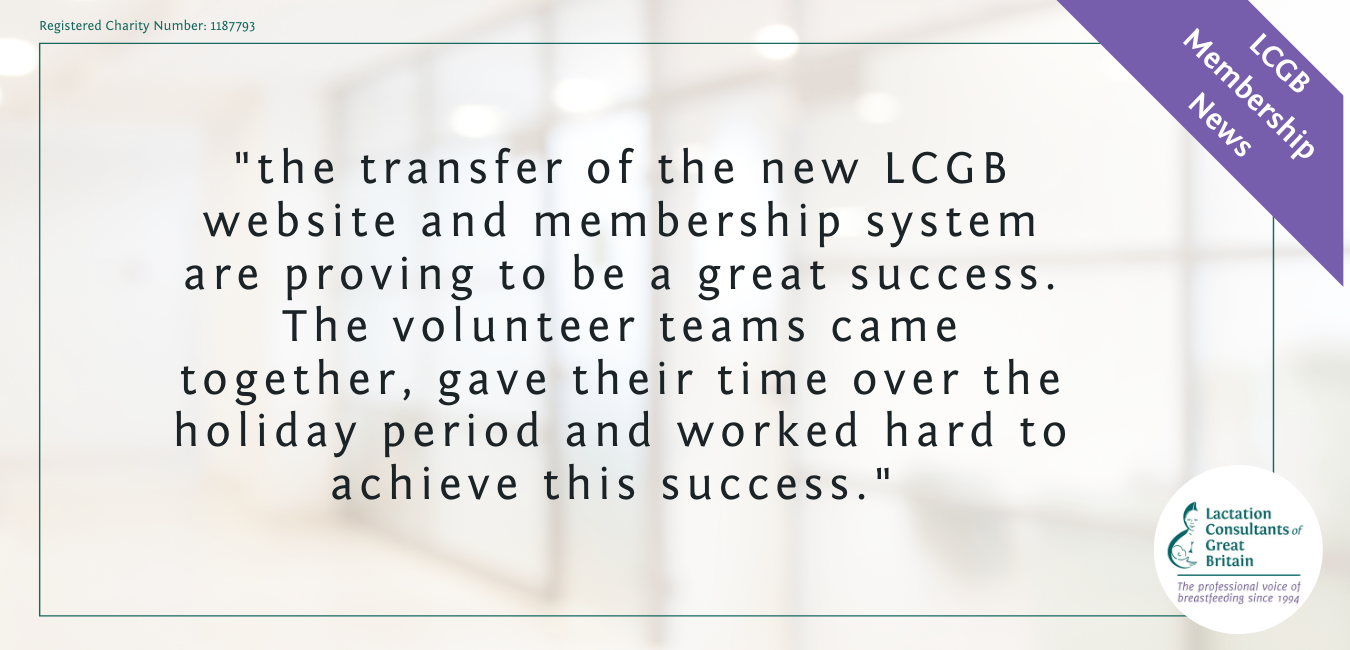 At the end of December LCGB began the process of going' live' with our newly built LCGB website and membership system. Despite an unforeseen technical error on the first day that was sorted within 24hrs. A small team of volunteers began updating and checking the hundreds of links, on the site to see they all worked correctly. After this the 530+ members membership information could be transferred to the new system.
We took a deep breath and the new website and membership system went live. Almost immediately members started logging on which was so exciting as it was the culmination of many hours of preparation. In less than a week most of our existing members have logged in, and we already have over 13 new members. We are getting great reviews, including this one shared on a social media group "THANK YOU!! LCGB has really come into its own and has so much to offer aspiring and current IBCLCs. Well done everyone, amazing!"
But the work didn't stop there, as Vikki our membership secretary and Sophie our communications lead made themselves available daily, to deal with member's enquiries, checking data and generally offering members support.
LCGB is responsible for monitoring that the member's information shared is correct. We now are pleased to welcome two new volunteers that are helping to review member's details, IBCLC certifications dates and in particular the IBCLC listings on the 'Find an IBCLC' map and advertisements. In accordance with our listing and advertisement guidelines, it is important to amend any instances where a member list more than their IBCLC credentials.
In summary, the transfer of the new LCGB website and membership system are proving to be a great success. The volunteer teams came together, gave their time over the holiday period and worked hard to achieve this success. Both the website and membership system are a work in progress, and these volunteer teams will continue to develop them to the benefit of our members as we learn what is required. Please do contact us if you have any questions, as we work to produce something that benefits all those that visit the LCGB website.
Sophie Burrows – Communications Lead
Vikki Kidd - Membership Secretary