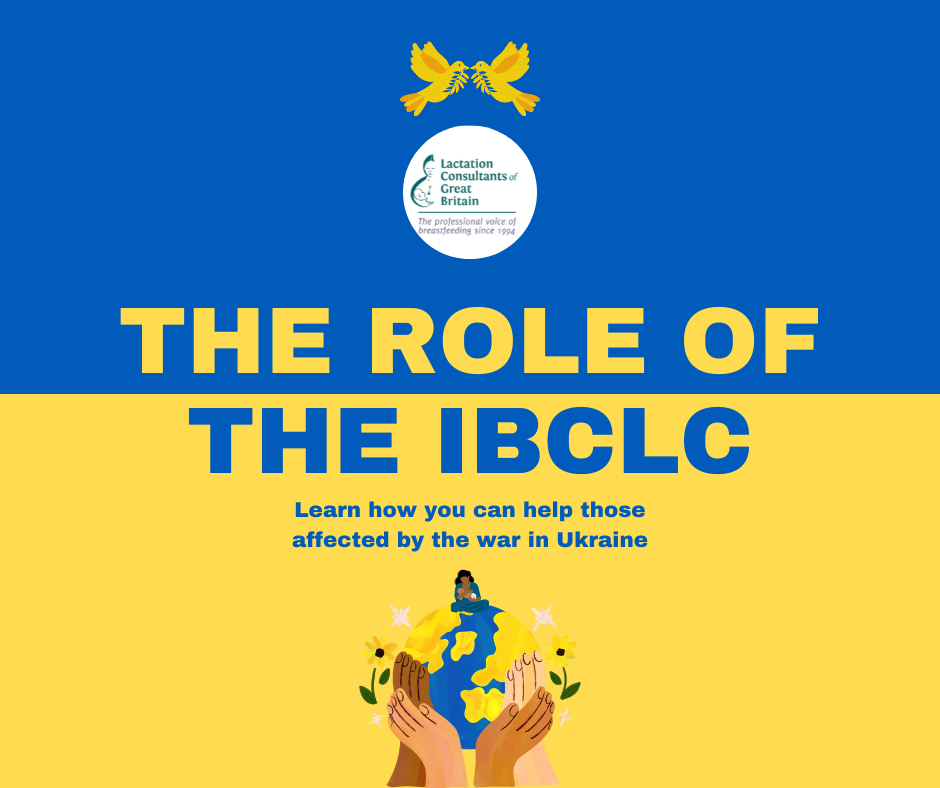 Supporting the Ukraine Emergency
---
Many of you have enquired how we all can help those affected by the war in Ukraine, especially families with infants and young children.
IBCLCs are the only health workers whose clinical competencies (IBLCE Clinical Competencies for the Practice of IBCLCs 2018) include infant feeding in emergencies, as documented in pages 30-31 of the WBTi UK report. From 2023 this will also be a separate required topic on the IBLCE exam Detailed Content Outline.
In addition, IBCLCs are required in our Code of Professional Conduct to uphold the WHO International Code on the Marketing of Breastmilk Substitutes and subsequent relevant World Health Assembly Resolutions – several of these clarify the appropriate management of breastmilk substitutes in emergencies, and also call for the implementation of the Operational Guidance on Infant Feeding in Emergencies, from the Infant Feeding in Emergencies (IFE) Core Group.
Families need access to good information and skilled support at all points on their refugee journey, and will need specific types of information and support at each stage: in bomb shelters under bombardment, with no fresh water or electricity, all along their long journey to the border, in refugee reception centres, and in their final destinations in our own communities.
Likewise, well-meaning aid workers and local officials are unlikely to have training in infant feeding and breastfeeding can be easily undermined – getting information and training to the helpers is also needed.
Is this all new to you?

WHERE TO START?
---
IYCFE: Infant and Young Child Feeding in Emergencies. Infants and toddlers (as well as pregnant and breastfeeding women) have very specific nutritional needs and are especially vulnerable in any disaster.
Quick overview: Handout on IYCFE from ELACTA.
The Introduction of this open access paper by Karleen Gribble and Aunchalee Palmquist gives an excellent overview of the issues around infant feeding in emergencies. This paper is set in a European context. Includes a table summarising the Operational Guidance. 
Watch this 4 minute introductory video from Save the Children
Aid worker or emergency planner? Short video here: how can you incorporate best practice into your support for Ukrainian families?
GET INFORMED: Read the first 25 pages of the  Operational Guidance for an overview of best practice.
Resources from the Global Breastfeeding Collective, led by WHO and UNICEF
COVID19: It is important that mother continues breastfeeding if she is COVID positive (short video from WHO): her milk can pass antibodies to her baby! More info and COVID precautions HERE.
Library of resources in Ukrainian and other languages, and policy resources
TRAINING and further education in IYCFE (Infant and Young Child Feeding in Emergencies)
ELACTA (The European Lactation Consultant Alliance) has commissioned a capacity building webinar for their IBCLC members around Europe, on supporting infant and young child feeding in emergencies (IYCFE) in the current crisis, both in Ukraine, in border countries, and in all countries receiving refugees. 
This webinar from Safely Fed Canada is specifically tailored to the current situation and will be available free on ELACTA's website until approximately the 7th of April.
If you are not a member of ELACTA, you can support ELACTA's work by adding membership to your LCGB membership for £15 per year on the LCGB website (this also entitles you to ELACTA's members' digital journal).
Panel of experts: Strategies for Infant and Young Child Feeding in Climate-Related Emergencies on Monday, March 21 at 12 noon GMT (parallel event at the 2022 Commission on the Status of Women). The event is free, but registration is required.
You will learn about:
Policies that – if implemented and enforced – support women by protecting families from predatory marketing and providing skilled breastfeeding support
Case studies of disaster preparedness that centre on infant feeding safety
Proven strategies for protecting and supporting maternal, infant, and young child nutrition
Sponsored by the Global Breastfeeding Collective with support from the IFE Core Group.
VOLUNTEER: 
There are several initiatives that you may be interested in becoming involved in.
People from numerous organisations are volunteering to help – here are some ways YOU can help:
Start with training (see above) 
Joint volunteer Resources and Translations team: 
Volunteer to help develop and translate two types of resources:
Resources on infant feeding aimed at supporting Ukrainian families themselves.
Resources aimed at humanitarian workers and policy makers in countries receiving refugees, explaining the basics of how to help, the importance of protecting breastfeeding, and how to manage breastmilk substitutes.
A small team of volunteers from a variety of backgrounds are working to translate and disseminate resources on infant feeding. 
Language skills welcome: Ukrainian, Polish, Hungarian, Slovak, Russian, Belorusian, Romanian and languages from any country expecting an influx of refugees.
Other skills are needed as well: Canva skills, Google spreadsheet management, and any organisational skills are welcome.
Preparing to support Ukrainian families with infants arriving in the UK
Are you an Infant Feeding Lead in the community? Or keen to see families with infants quickly access the help they need? Help us work to prepare the ground in the UK for stronger support for refugee families
This includes:
Advocacy to the Home Office and the designated agencies receiving refugees into the UK: include rapid feeding assessment, and signpost to suitable help.
Contacting Local Authorities to offer support with feeding assessments for families, ensuring that each area has accurately mapped skilled local infant feeding support, both statutory and third sector, and that families who need formula have rapid access to Healthy Start.
Please complete the volunteer form here: https://forms.gle/sVkgnytWut34N2Yt6
Thank you all for your dedicated skilled service supporting families!
With warm wishes,
Helen Gray, LCGB Policy and Advocacy Lead
Read Helen's interview with Ms. Magazine 'Breastfeeding in a War Zone'