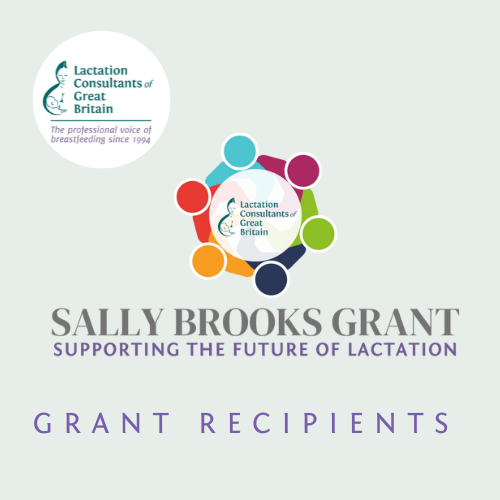 Sally Brooks Grant
Recipients

2022
One of the tasks of the Equity Diversity & Inclusion team is to administer the Sally Brooks Grant. This incredible gift, from one of our members, provides financial assistance towards enabling a fellow member to fulfil their ambition to become an IBCLC.
After some years of delay in refining the process, the grant has been offered for the first time this year. The purpose of the grant in 2022 was to select two candidates for whom the application fee for the IBCLC exam would be provided. The criteria required was set out in the grant application form submitted for the selection panel to review and then followed up with interviews.
We are pleased to announce that two successful candidates were selected. Jenya Taylor and Robyn Nalty, have both dedicated years of voluntary support in their respective breastfeeding communities and are looking forward to more fulfilling roles when they have achieved the IBCLC credential.
LCGB congratulates them and wishes them every success in being able to achieve their dreams and to becoming active members within our organisation.
My name is Robyn Nalty. I first heard about the Sally Brooks Grant through a friend who has been an active IBCLC for many years. She has thoroughly encouraged my journey to gain the accreditation and suggested I apply in early 2022. I am delighted to have been awarded the grant; I feel deeply appreciative of the opportunity to receive recognition for my hard work and commitment to expanding my skills and further supporting breastfeeding and lactation. I currently work as a breastfeeding counsellor for an infant feeding service in my local community of Lambeth in South London. Alongside this role, I also offer my services as a Birth and Postnatal doula.
Following on from my transformative experience of becoming a young mother, and observing the disparities birthing people and women face within infant feeding support, I decided to train as a Breastfeeding Helper. I have volunteered and worked with the Breastfeeding Network for almost nine years. My time with the BfN has afforded me the opportunity to discover an area of genuine passion, and ignited in me a form of activism that is necessary to improve our breastfeeding care standard in the UK and beyond. Through my experiences volunteering and working in birth and breastfeeding services,  I understand that my ability to have the impact I wish for in my community will be enhanced by further education and specialist knowledge. This has fuelled my decision to become an IBCLC.
It is an incredible privilege to be present through such an intimate transition of life. Providing a skilled support service to women and other birthing people and witnessing them discover their power through feeding their babies and overcoming initial challenges has been immensely rewarding.
Once qualified I intend to utilise the information and knowledge I gain to empower families to make informed decisions about their feeding choices and have access to appropriate care regardless of background. I am particularly committed to seeing progress in the care Black and brown families, the LGBTQI+ community and those with disabilities receive.  I would hope for my support to go some way in bridging the gap of inequalities between the support some breastfeeding dyads can access compared to their less financially secure or under-represented peers. I'm also very enthusiastic about raising awareness of the long term influence breastfeeding has on global environmental sustainability, in addition to contributing to the ever-evolving landscape and quality of support provided in the UK.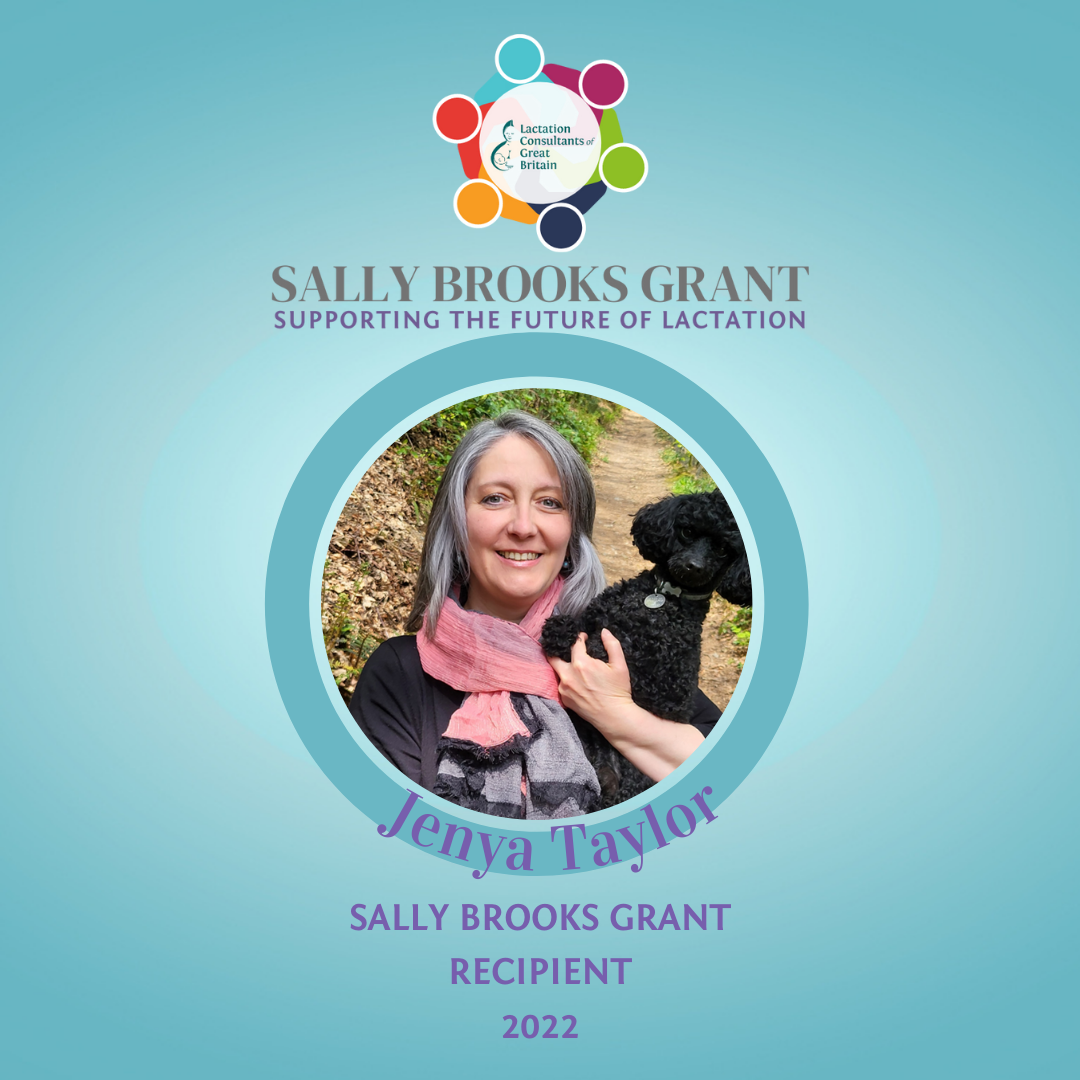 My name is Jenya Taylor. I first heard of Sally Brooks Grant being announced at the AGM meeting in February 2022.  I then followed it up and located the application on the LCGB website. Application process was straight forward, and easy to follow.  Being successful in applying for this Grant means I am able to utilise knowledge and skills I have to qualify for the exam entry.
I am a wife and a mother to one daughter. I have started my breastfeeding journey as a breastfeeding mum 15 years ago, and continue to grow and develop needed knowledge and skills by taking small steps towards the Lactation Consultant qualification. I have two jobs within NHS: I work part-time as a Health Visitor in rural community settings, and part-time as an Early Years Nutritionist Co-ordinator, working with UNICEF BFI, delivering infant feeding training, supporting staff and families when complex infant feeding issues arise.
In UK breastfeeding initiation and continuation rates are lowest in Europe. There is a great need to expand services to support breastfeeding dyads in NHS and within the private sector.  The Lactation Consultant qualification will give me the opportunity to continue my further growth and development of knowledge and skills, and will open doors to work with other professionals. This qualification will enable me to work together with parents and their babies, ensuring they have timely access to services and to up-to-date evidence based information, and as well as being appropriately referred on to other professionals, which I hope will improve their experience.
I am grateful to LCGB charity to present me with such opportunity. THANK YOU!!!